Margaret and Ozge's story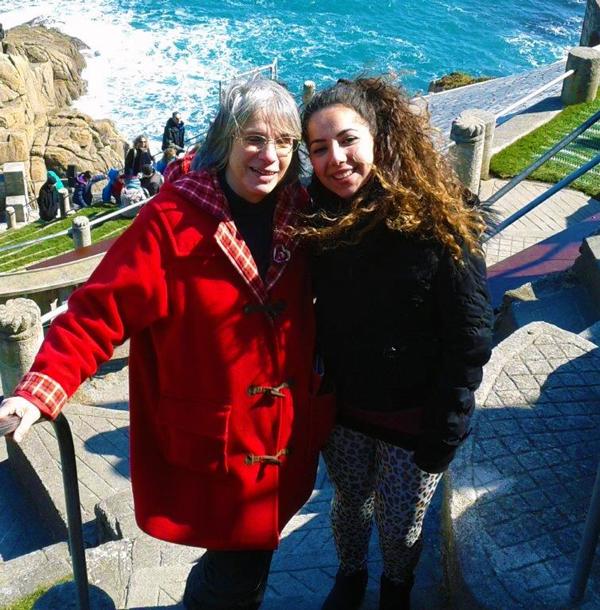 Margaret:
I am one of HOST's volunteer Regional Organisers. This means that some student applications are sent to me, and I find the best invitation for each of them with one of the 70 host families in Cornwall, where I live. My husband, David, and I have also been hosts to international students for many years.

The students we invite to our own home have to like dogs, because we have a large friendly one. A stay with us always involves walks by the sea, so I look for a student who seems to enjoy being out of doors exploring the countryside on foot.  We have a good piano, so someone who can play the piano is welcome to use it. Otherwise, we look for students who share our interests in books, film, languages, or (for David) the politics of the Middle East.

Ozge came to us for a few days a year ago, and this was a great bit of match-making! It was like having a lovely grand-daughter come for a visit, as we shared our lives, our interest in English Literature, and our enthusiasm for wandering around little shops and galleries, deciding what we would buy if we had any money!
Ozge:  
I came from Turkey to take an MA in London. I wanted to have a HOST visit at Christmas, but then unexpectedly I needed to go home, so Margaret let me postpone until the spring. We exchanged several emails and photos before the visit, so I knew I was going to meet a friend when I got off the coach in Penzance.

I fell in love with their dog instantly! I slept really well in their house – it was so good to have a break from London and my work. Margaret took me to see an outdoor theatre by the sea – that was amazing. In fact, she showed me a lot of beautiful places, and we never stopped chatting. I cooked a Turkish dish for my hosts one evening and they enjoyed it.

I am back in my country now, but Margaret and I still write to each other, and I'm looking forward to seeing her again when I return to the UK for my PhD.