Hosts hosted in Malaysia
The Talbott Family welcomed their first student from HOST to celebrate the Millennium. Mandy Talbott describes how this led to a reunion in Malaysia 14 years later.

It was our very first experience of HOST. We wondered if anyone would want to come to Scunthorpe, an industrial town in North Lincolnshire, where we lived at the time. Our Regional Organiser paired us with Teoh, a Production Engineer studying at Manchester for his Masters degree. As Mike and I both worked on the steel works in engineering and technical disciplines, Teoh was an ideal choice. Our children were 14, 13 and 4 at the time, typical teenage lads and a cute little girl called Hattie.
We had a wonderful few days together, and we kept in touch. After Teoh went back to Malaysia, he worked for a guy who knew me via work connections. What a small world it is!
Fast-forward several years: we knew Teoh had married – when he was our guest he talked so much about his girlfriend Ai Lean. We moved to another town but still corresponded; however eventually we lost touch. Then, out of the blue last Christmas we received a card and a lovely letter from Teoh and Ai Lean, who by now had two children, Wei Hong & Wei Ning.
Our daughter Hattie was now on her 'Gap Year' travels in the Far East and I was thinking of going to visit her. Hearing from Teoh again made me wonder if there might be an opportunity to meet up. I replied to his letter, and also made contact with Benny, another former student of ours, who had stayed with us for Christmas 2002. He was also from Malaysia and now worked in KL.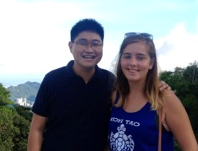 Hattie tells her story....
I started my Gap Year adventure in Singapore, where I had arranged to meet up with a former student of ours, Florence.
On my way to Thailand, I went to Malaysia, where I had a lunch date with Benny – he was a bit shocked by how tall I am, because he remembered me as a 6 year old child. I then travelled up from KL to Kuala Terengganu to stay with a former student family whom we'd hosted back in 2010 when the mother, Meii, was studying for her PhD at Hull. Meii & Husni have 3 children, Sophea, Daniel and Asmah. We all got on so well that we met up several times during their stay in the UK. I had a wonderful time with this family who made me so welcome. I had a trip to the university where Meii works and I was highly amused to hear the children speaking English with Hull accents.
Mandy picks up the story again...
Still at home in the UK, I received a reply from Teoh saying that he hoped we hadn't booked any hotels as his family would be our hosts for this visit.
Arriving at KL International airport was a very emotional moment for me when Teoh and I spotted each other. It was wonderful to meet his family after hearing so much about them and Ai Lean and I liked each other from the moment we met. I couldn't wait to tell people back on the steelworks that I had stayed with Malaysia's only female Caster manager. I felt like I had a Malaysian sister!
Ai Lean took the next day off work to take me sightseeing to KLCC, Batu Caves, Botanical Gardens and the Central Market. Hattie arrived that night from Thailand and the next day Teoh took us to Malacca (Melaka), a UNESCO World Heritage site a couple of hours drive away. That evening we all went to Klang for dinner and shopping, the perfect end to a great day out.
More adventures awaited as Hattie and I had booked 3 days in Penang, as so many people had recommended it to us. Teoh took us to the airport, and when we arrived in Penang, Benny met us. He had gone up for the weekend with his fiancé SueWei, as her family live there. We had a wonderful tour which included going up Penang Hill on a funicular railway. That evening we went to meet SueWei's family at a very famous Thai seafood restaurant, which is notoriously hard to find. We eventually got there via the police station to ask for directions – the Sat Nav had tak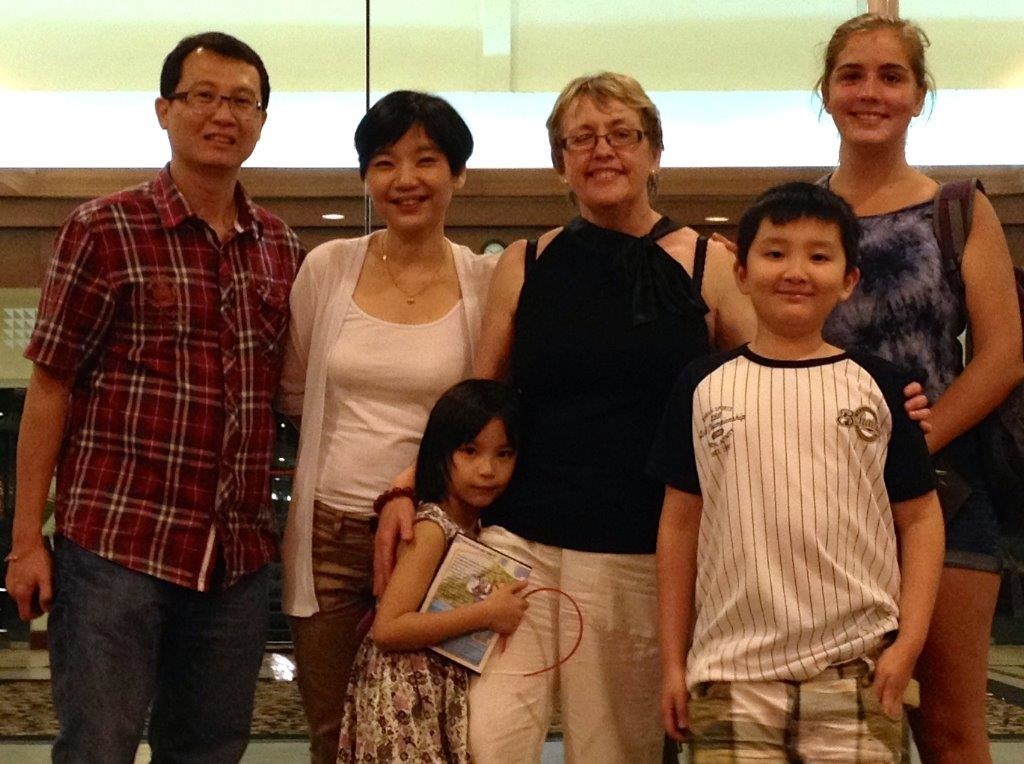 en us to a field about 2 miles away! We had a wonderful time and I experienced my first tropical storm (Hattie was used to them).
The following day Benny collected us from our hotel and took us to a very famous temple (Goddess of Mercy), which was absolutely fascinating. Following that we went for some street food to sample Penang's famous Laksa, which was absolutely delicious. Benny had to return to KL after that so Hattie and I had a couple of days to ourselves, to further explore the island.
Finally we returned to KL where we all met up again for a farewell dinner and our two former students who had collaborated so much to give us such a wonderful experience, got to meet each other face to face. We can never thank them enough for making our time in Malaysia so truly memorable and without HOST none of this would ever have happened.
We count ourselves as truly privileged people to have had the world opened up for us by international friendship. Long may HOST continue to flourish to bring about such amazing, enduring friendships.